Dear Investors,
What a surprise — on average 60% of category shoppers are not happy with their current choice and are ready to change the brand. Especially millennials who now are becoming parents — they need immediate delivery and they are looking for new and individual solutions. Current brands in the market have not made strong relationships with consumers — they care about themselves, not about their consumers.
Brief Profile
GEGE is the first baby diaper subscription service company in Northern Europe. It was born out of the idea that millennial parents need someone who truly gets them in their parenting journey.
The subscription-based business model offers predictable revenue and increases the return of the customers. During the first full year of operation in the Baltics markets, GEGE has reached a turnover of €0.4 million. In Latvia, GEGE has already gained 3% of the market share.
The company was created by baby care market professionals who themselves are parents, so they really get what kids need. And more importantly, they know what the parents need.
GEGE has already developed infrastructure: ecommerce platform thegege.com, product logistics to the Baltics and Scandinavia, and, most importantly, a well-developed supply chain with competitive sourcing;
The company's ambition is to create the largest baby goods online platform in Europe with a strategic product portfolio and communication solutions that makes parenting more fun.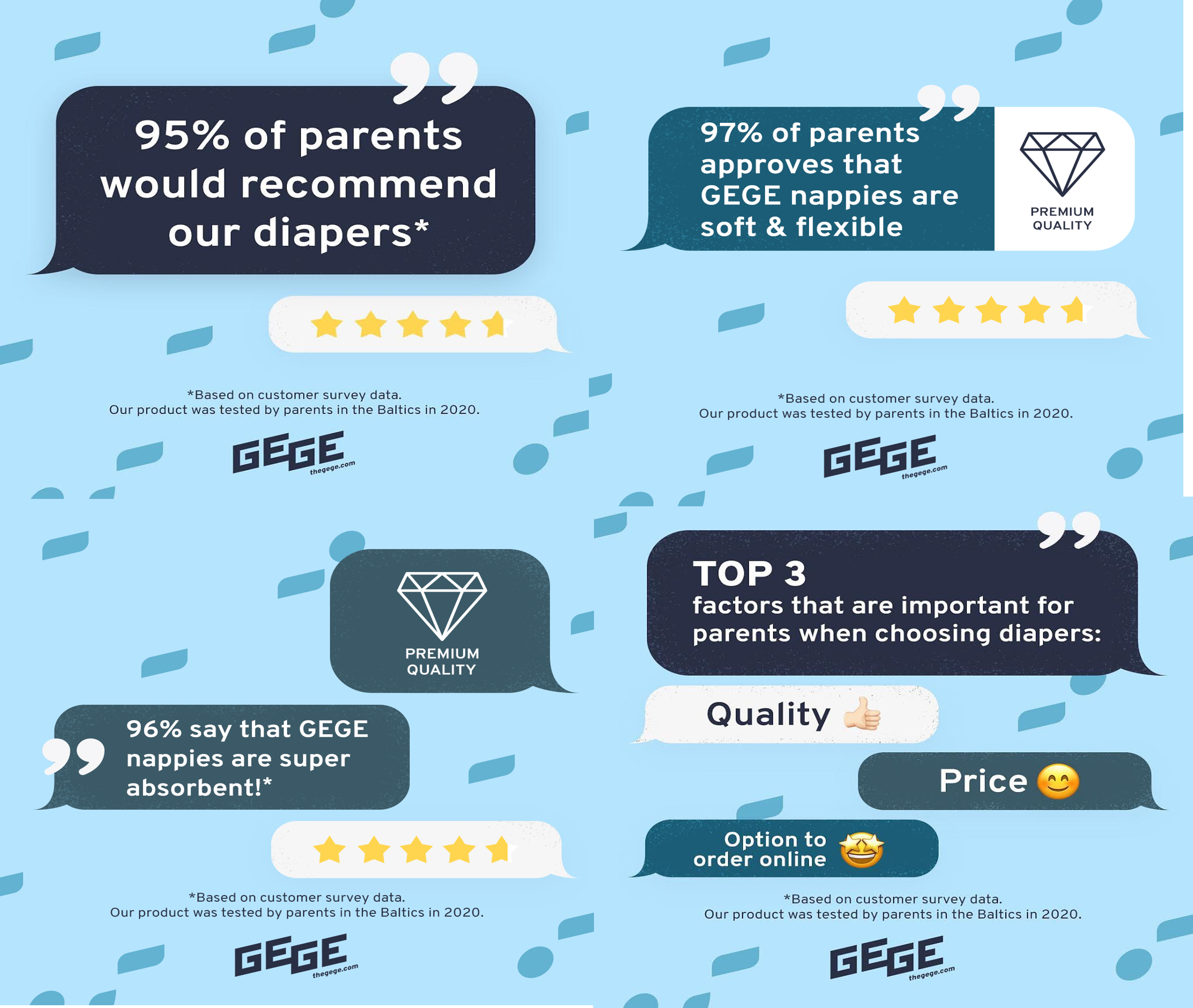 GEGE is proud of
520% of sales increase from 2020 to 2021;
Well-established brand awareness and sales in Latvia (obtained 3% of market share during the first full year of operation), fast growth in Lithuania;
Efficient logistics and product delivery — 95% of orders are delivered the next day;
Solid average order value – 25 EUR (2.5 times higher than industry average);
95% consumer quality and service rating;
Premium product quality – introduced upgraded quality in Y2021.
Latvian E-commerce awards:

2021: Bronze medal in the Exporters category;

2022: Bronze medal in the Small Business and Exporters category.
Market Share Distribution: Baltic States
The Baltic market is dominated by Pampers with around 40% of the market share, followed by Huggies with 25% of the market. GEGE's total market share in the Baltics is currently 1.2%, in the domestic market - Latvia it reaches almost 3%, in Lithuania and Estonia about 0.5%. GEGE is gradually gaining ground in the Baltics and aims to gain 8% of the market over the next 3-5 years.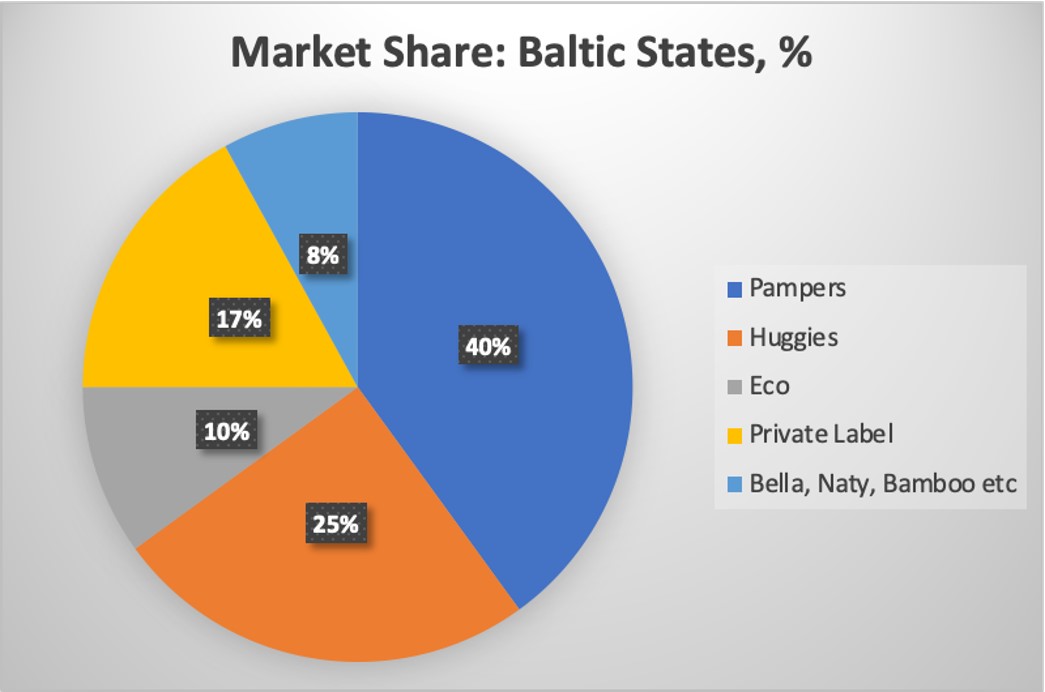 Growth Strategy
Y2022 Q3: to add wet baby wipes and baby cosmetics to a portfolio that would allow GEGE to increase average profitability (category margin > 300-500%);
Y2022 Q3: to diversify the portfolio with eco segment products (disposable baby wipes); planned growth from 10% to 30% per year;
Y2022 Q3/Q4: to expand to Finland, Sweden, Denmark, and other EU markets, that hold the highest potential — high purchase power, familiarity with subscription services;
Y2023: to expand in Amazon and other marketplaces through launching GEGE products on the Amazon.se marketplace;
Y2023: to launch sales in Germany, the Czech Republic, and potentially Spain and France via Amazon. Based on the performance in each country GEGE can then invest in targeting customers directly outside of the Amazon platform.
Investment distribution plan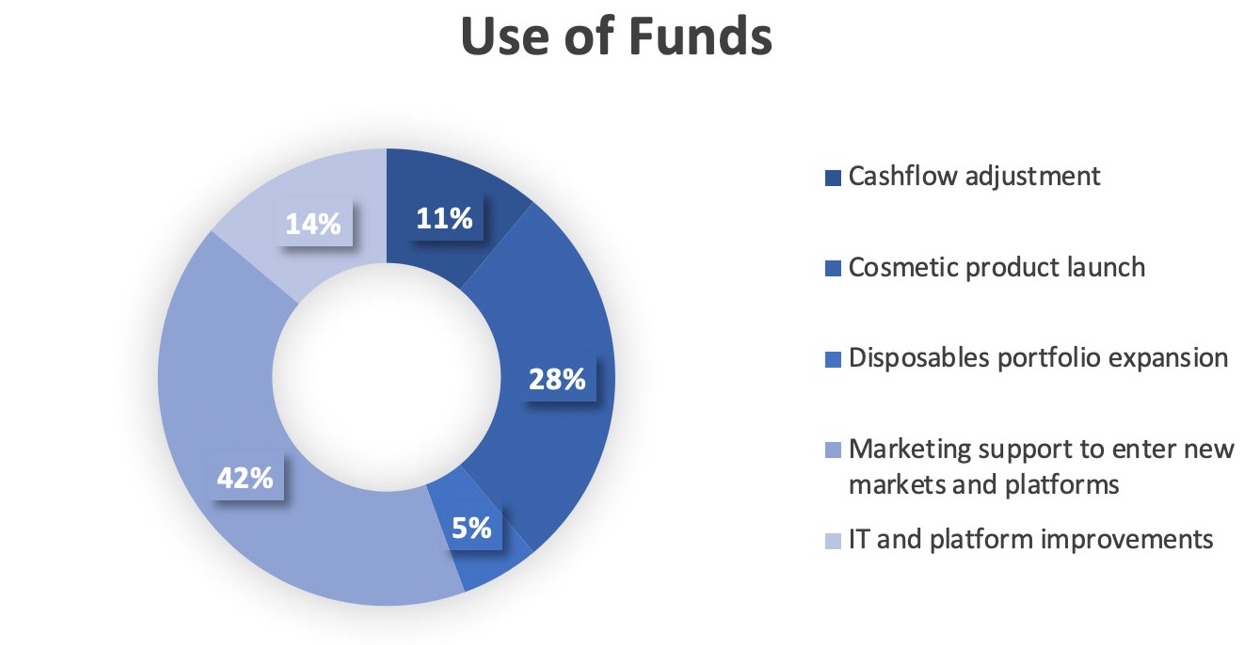 22 000 EUR Cashflow adjustment: we will be able to increase our leverage by purchasing larger inventory and thus negotiating more flexible payment terms with manufacturers.
56 000 EUR Cosmetic product launch: we aim to add 1-2 new baby care products in 2022 and 2-3 products in 2023, which will require investments in a production batch, product certification as well as a marketing budget.
10 000 EUR Disposables portfolio expansion: we will be able to add baby care products that are normally manufactured in large MOQ batches. Like wet baby wipes thus substantially increasing our profit margin.
84 000 EUR Marketing support to enter new markets and platforms: we will be able to build our inventory in various new warehouses in Europe and establish an efficient door-to-door fulfilment
56 000 EUR IT and platform improvements: we will be able to add additional features to our home page which will enable more smooth scaling process in the future, for example, additional UX improvements, a new customer portal for B2B clients, improved Woocommerce platform integration with warehouse and logistics providers and potentially a new ERP system.
Dividends and exit scenarios
In the next five years, GeBerry will reach sales of over 5 million EUR. The GEGE brand will be represented in all Scandinavian countries and central Europe. Offered products have a margin of 50-60% and the company's goal is to become profitable by the end of 2022 and aim for exit in the next 4-6 years. Starting from 2023 the GeBerry management will be ready to discuss a dividend distribution plan for all the investors.
At the beginning of 2027, with more than 100 000 active customer base GeBerry will be positioned as an attractive market player for the existing competitors and strategic investors. Another realistic exit scenario is to be acquired by a leading European or Scandinavian baby care product distributor.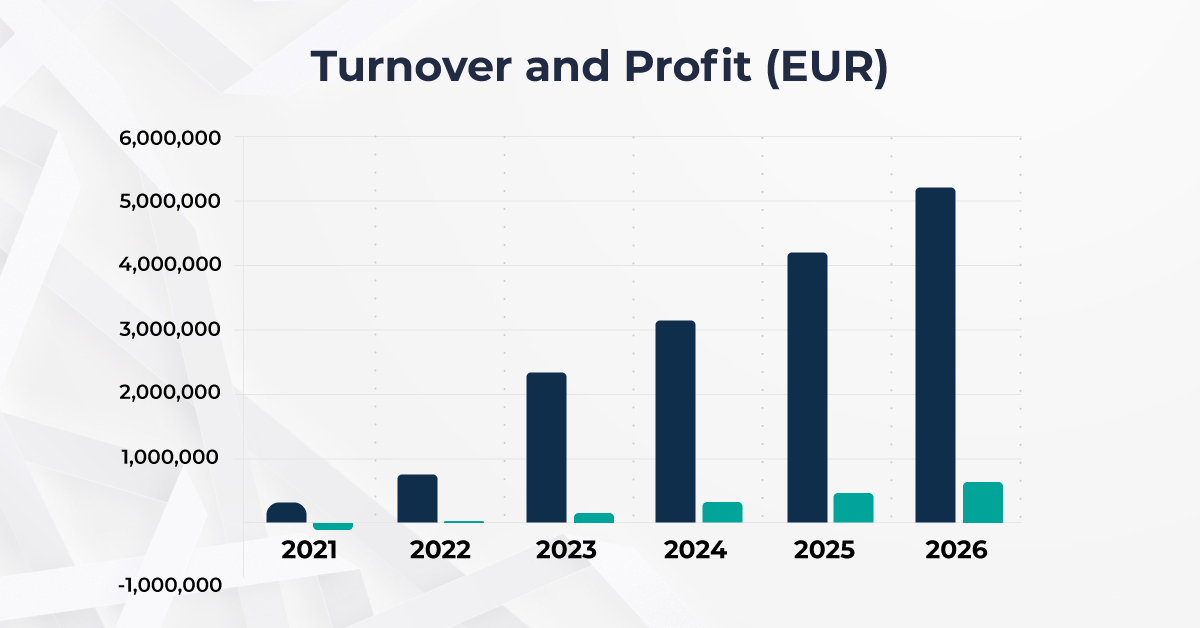 Investment structure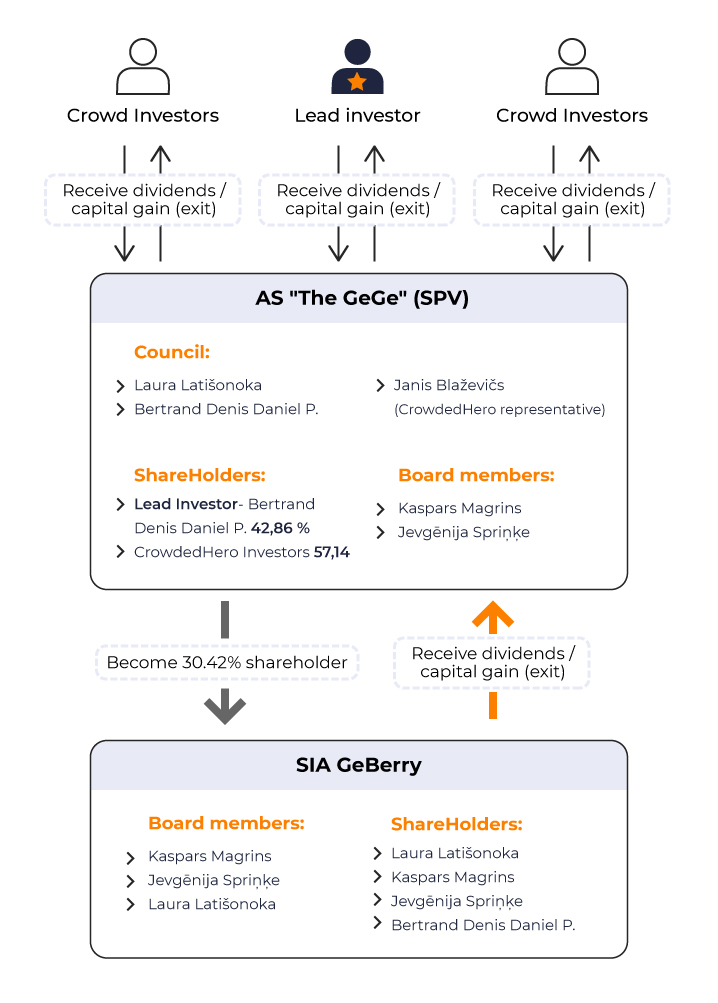 Investors via the CrowdedHero platform invest in Special purpose vehicle - Joint Stock Company, AS "TheGeGe".
Investors will hold 54.17% of AS "TheGeGe", and Lead Investor ​42.86%.
Crowd​edHero investors' interests in the SPV council will represent CrowdedHero CEO Janis Blazevics.​
SPV-AS "TheGeGe" will invest in SIA "Geberry" and become a shareholder of 30.42 % of the operating company. Crowd Investors will indirectly own 17.39% of the SIA "Geberry".
SIA "Geberry" will distribute dividends and proceeds of selling shares to AS "TheGeGe", which will further distribute them accordingly to every crowd investor.
Key takeaways:
Online sales of baby diapers have opened opportunities for newcomers while offering convenience to parents. The market online revenue share is expected to double by 2025. It's a safe and predictable growing market.
GEGE has all the infrastructure for further growth and it is led by experts in the market. Logistics and distribution is set-up and the ecommerce platform is attracting new customers every day.
By becoming an investor, you will become a part of an internationally growing business and support building the largest baby goods platform in Europe.
CONFLICT OF INTEREST
CrowdedHero shall accept the investments in the platform in accordance with the Conflict of Interest Policy from any of the following:
(a) its shareholders holding 20 %, or more, of share capital or voting rights;
(b) its managers or employees;
(c) any natural or legal person linked to those shareholders, managers or employees by control as defined in point (35)(b) of Article 4(1) of Directive 2014/65/EU.
All investments shall be made in accordance with the CrowdedHero's Terms and Conditions and under the same conditions as those of other investors and that those persons shall not enjoy any preferential treatment or privileged access to information.
PROJECTS IN WHICH CROWDEDHERO shareholders, managers or employees, other related persons INVESTED:
GEGE: CrowdedHero's Chairman of the Board Jānis Blaževičs invested EUR 20,400 by purchasing 408 B category dematerialized registered shares
Invest in a business loved by customers!
We will be happy to answer your questions about GeBerry SIA investment campaign.
Send your questions to [email protected]