About company
Join the clean energy revolution with Electrify H2 AS, a daughter company of Latvia-based manufacturer of electric vehicles, Electrify SIA. Now Electrify SIA is expanding its' expertise by establishing Electrify H2 AS to include the production of hydrogen-powered boats and vehicles, which will be built with the highest commitment to quality and sustainability.
Electrify H2 AS has a cutting-edge assembly plant located in Ogre, Latvia, where installs electric and hydrogen components to bring you the best in green transportation. Electrify H2 AS boats are designed to withstand harsh marine environments, with skilled craftsmanship being essential for ensuring superior quality and reliability. Company commitment to quality craftsmanship sets us apart in the industry.
Invest in Electrify H2 and be a part of the future of clean and efficient mobility!
Market trends
Since 2019, the European Partnership for Clean Hydrogen has been established with the aim of creating a strong, innovative, and competitive clean hydrogen sector in Europe that can support and enable the energy transition. The European Union is investing in hydrogen energy for mobility. In 2020, the European Green Hydrogen Acceleration Centre was launched by EIT InnoEnergy to support the development of a $100 billion green hydrogen economy by 2025 potential to create 500,000 jobs. Breakthrough Energy, founded by Bill Gates and other tech and business leaders, supports this initiative. The primary goal is to reduce the cost difference between carbon-emitting technologies and green hydrogen to encourage its use in industries such as steel, cement, chemicals, and heavy transport, as well as in energy storage. The EU in particular has $4.56 billion of annual funding potential for hydrogen projects in 2021-30.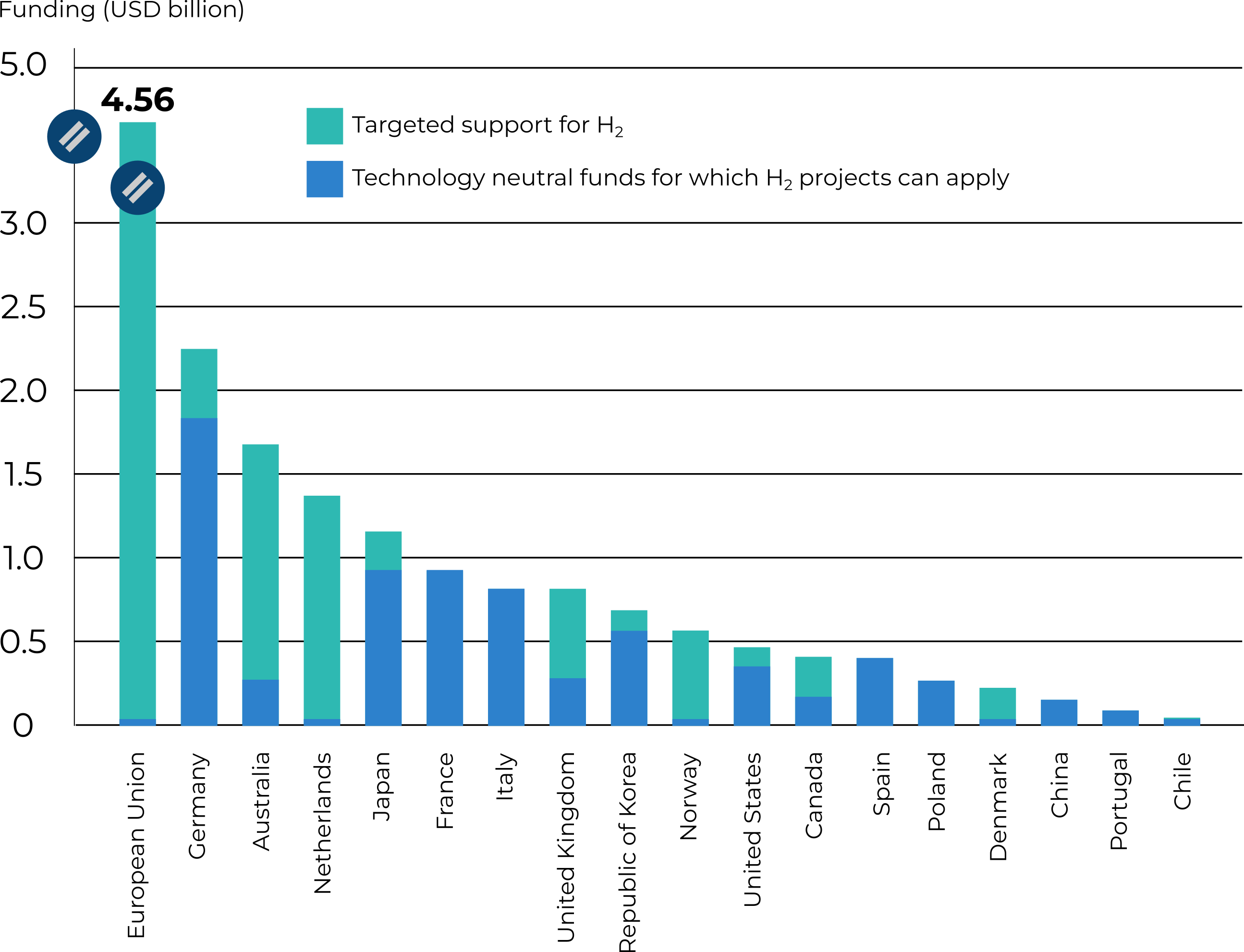 Source: https://www.weforum.org/agenda/2022/02/clean-hydrogen-energy-low-carbon-superpowers/
The concept of hydrogen-powered boats is a new idea in maritime transportation. Several European boat companies are planning to launch these boats in 2024/2025, aligning with the growing trend toward sustainable transportation in the industry.
From vision to solution
Electrify H2 AS was founded with a vision to address the growing need for clean and efficient maritime transportation solutions. Our team identified a gap in the market for a unique product that combined the benefits of hydrogen fuel cells with the practicality of a boat. We aimed to create a vehicle that would meet the demands of an environmentally conscious society, providing environmental sustainability, cost-effectiveness, transportation efficiency, reduced noise pollution, and versatility. The rising demand for green boats, especially for coast guard, mini-ferry and port services needs, gave us added confidence in the potential for our product. By harnessing the power of hydrogen fuel cell technology, we aim to offer a sustainable and reliable solution to the challenges of today.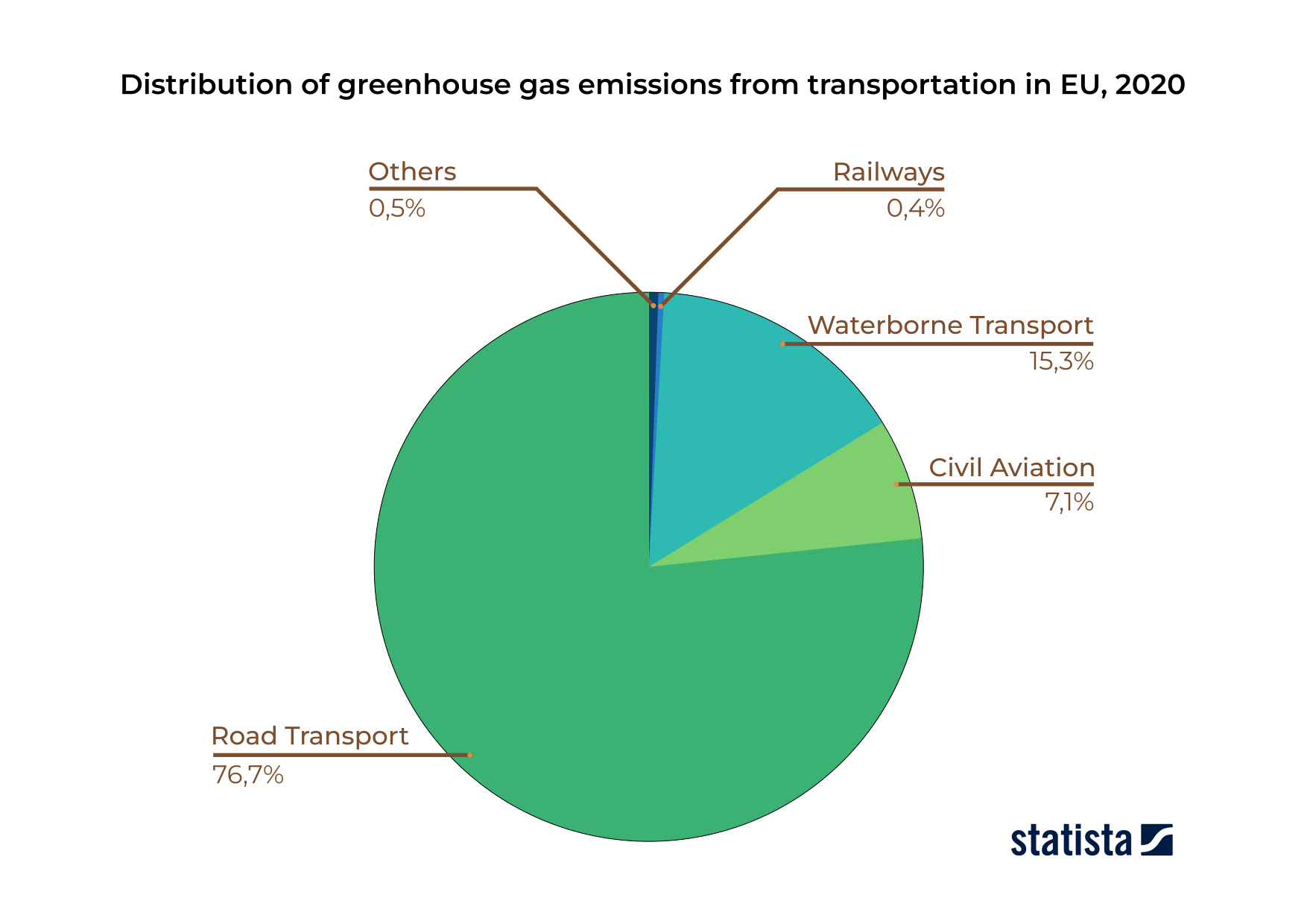 Source: https://www.statista.com/statistics/1237597/transport-greenhouse-gas-emissions-by-mode-eu/
Currently maritime transportation represents 15,3% of total carbon emissions. Hydrogen-powered boats are a solution to reduce greenhouse gas emissions from maritime transport, replacing fossil fuels with zero-emission transport. They have a similar environmental impact as electric boats and are more cost-effective over their lifetime due to lower hydrogen production costs. They also need to refuel 10 times less often than electric boats, providing an efficient transportation solution.
Our hydrogen-powered boat represents a step forward in the transition to clean, renewable energy, and we are committed to providing a high-quality, low-emission solution that makes a positive impact on the environment while meeting the needs of the market. The development of environmentally friendly maritime transport is supported by EU funds and provides benefits for clients who perform inland and coastal waterway maritime operations, whether for pleasure or in the line of duty.
Product
Zero-emission transportation: The boat produces only water as a by-product, making it a clean and environmentally friendly mode of maritime transportation.
Longer range and convenient refueling: Hydrogen fuel cell boats have a significantly longer range compared to battery-electric boats, and refueling with hydrogen is becoming increasingly convenient as more hydrogen refueling stations are being built.
Lower operating costs: Hydrogen fuel cell boats are more cost-efficient than traditional fossil fuel-powered boats, and the cost of hydrogen fuel is expected to decrease over time.
Multiple applications: The boat is suitable for a range of uses including military, coastal guards, port services, and pleasure travel, filling a need in the market for clean and efficient transportation in these areas.
Our hydrogen-powered boats help address environmental concerns by:
Producing zero emissions, reducing carbon footprint and promoting a cleaner environment.
Improving air quality by emitting no harmful pollutants.
Using renewable energy sources, making it a sustainable transportation option.
Reducing reliance on finite and polluting energy sources.
Providing a sustainable maritime transportation option for various needs including coastal guard, port services, mini ferry, as well as leisure.
In 2023, Electrify H2 developed the concept of a hydrogen fuel cell-powered boat. This innovative product aims to assist coastal guards, port services, and pleasure boat enthusiasts in providing more environmentally friendly transportation services to the public. The product concept and its key components are depicted schematically in the accompanying picture.
AS Electrify H2 is set to revolutionize coastal and inland maritime transport with its hydrogen-powered boats andbrings the future of sustainable maritime transportation to the market. The hydrogen-powered drive system will be skillfully engineered and installed at Electrify H2's Ogre manufacturing facility. The compact electric motor, hydrogen fuel cells, and other components will be strategically positioned for optimal performance.
Prepare to experience clean and efficient transportation with Electrify H2!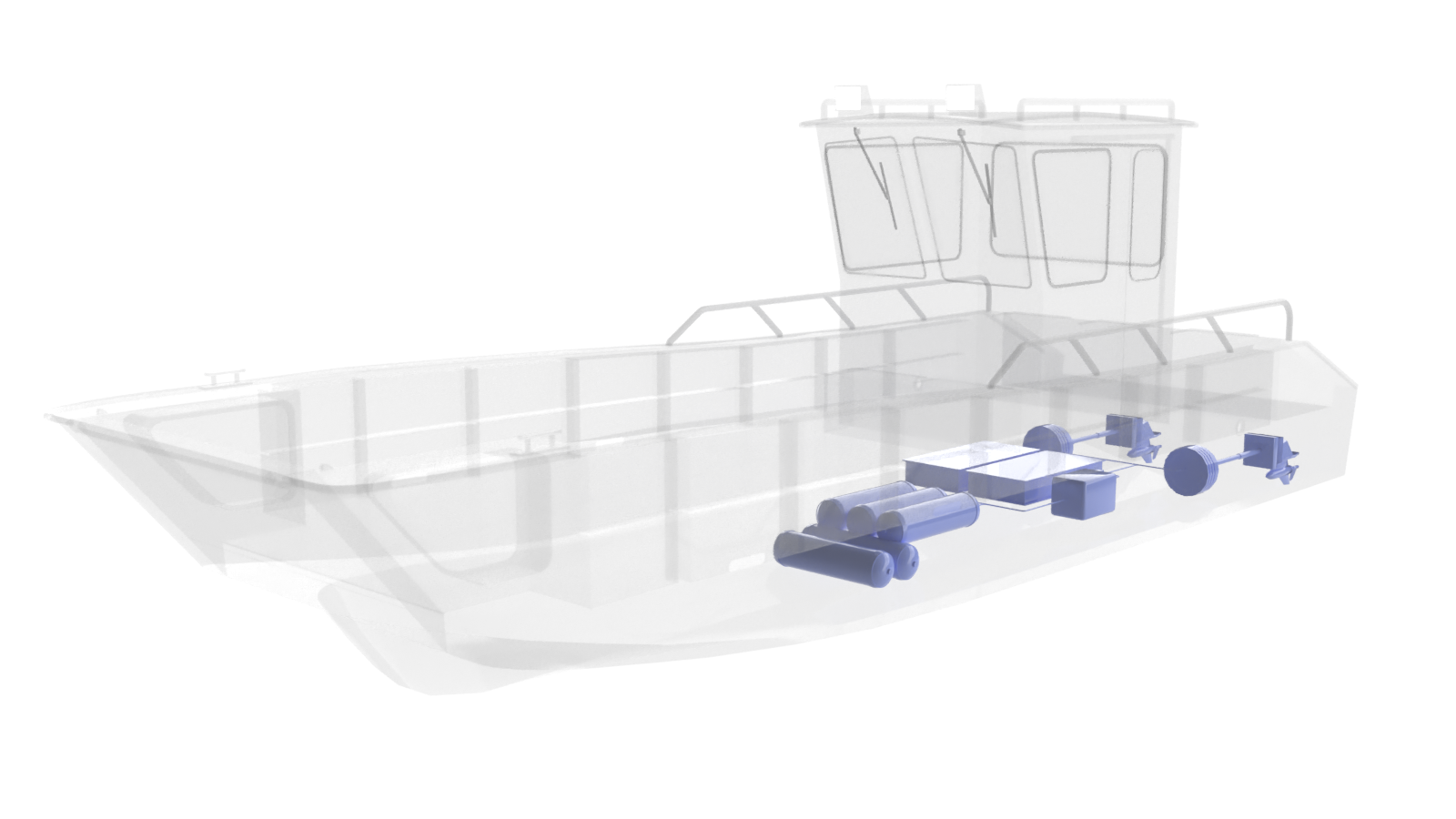 Picture: Hydrogen boat concept
Business Model
Electrify H2 is dedicated to promoting sustainability in coastal and inland maritime operations, as well as leisure maritime trips. Primarily targeting public sector customers, Electrify H2 focuses on manufacturing boats to create efficient and eco-friendly vessels while maintaining profitability. The company's low fixed costs and outstanding contract manufacturing prospects contribute to favorable unit economics for its products. Each boat is sold with the assurance of profit. As the demand for sustainable maritime transportation solutions grows, Electrify H2 is poised to lead the market with innovative techniques and manufacturing processes.
Electrify H2's in-house manufacturing capabilities and strategic use of contract manufacturing enable the company to manage large contracts and meet the expanding demand.
Our skilled team possesses the expertise and resources to scale production capacity in response to increased demand. With a proven track record of delivering high-quality transportation solutions and years of experience in the industry. Our proficiency in green transportation manufacture, combined with our dedication to sustainability and efficiency, establishes us as a frontrunner in the clean transportation sector.
Go-to-Market Plans
Electrify H2's hydrogen-powered boats provide a sustainable solution for the coastal guard, port service, and leisure needs worldwide. With a focus on Northern Europe, particularly German and Dutch municipalities, companies, and private individuals, Electrify H2 is strategically positioned to cater to the rising demand for eco-friendly transportation options and drive global change.
The primary target market for Electrify H2's green boats includes the coastal guard, and port services, which adhere to their respective national procurement regulations. The company has conducted comprehensive market research in Europe and developed sales channels for hydrogen-powered boats. The detailed list of project activities and schedule is the following:
Design of the prototype ship – 3 months (M1-M3). All drawings needed, incl. electronic, H2, other components. Defining the key parametres of the ship for certification.
Contracting the shipbuilder - 1 month (M4). Potential contractors: ASK Enterprise, Latvia or Baltic Workboat, Estonia. We will pick a company, which will work with local maritime authority register, Lloyds, DNV or analogue.
Engineering input / organisation of the construction in the premises of the shipbuilder, with back office in Electrify premises in Ogre, Latvia - 6 months (M5-M11):
3.1. Engineering team mobilisation: 6 from Electrify, 4 from the shipbuilder;
3.2. Fuel cell (Ballard or other);
3.3. Supplies of devices and equipment, navigation, etc.
Sea experiments – 1 month (M12):
4.1. Electrify with the maritime administration.
Consultations with customers – requirements by freeports around the BSR, Scotland, Norway, small ports. (all in parallel – 12 months).
Investment distribution plan
Use of funds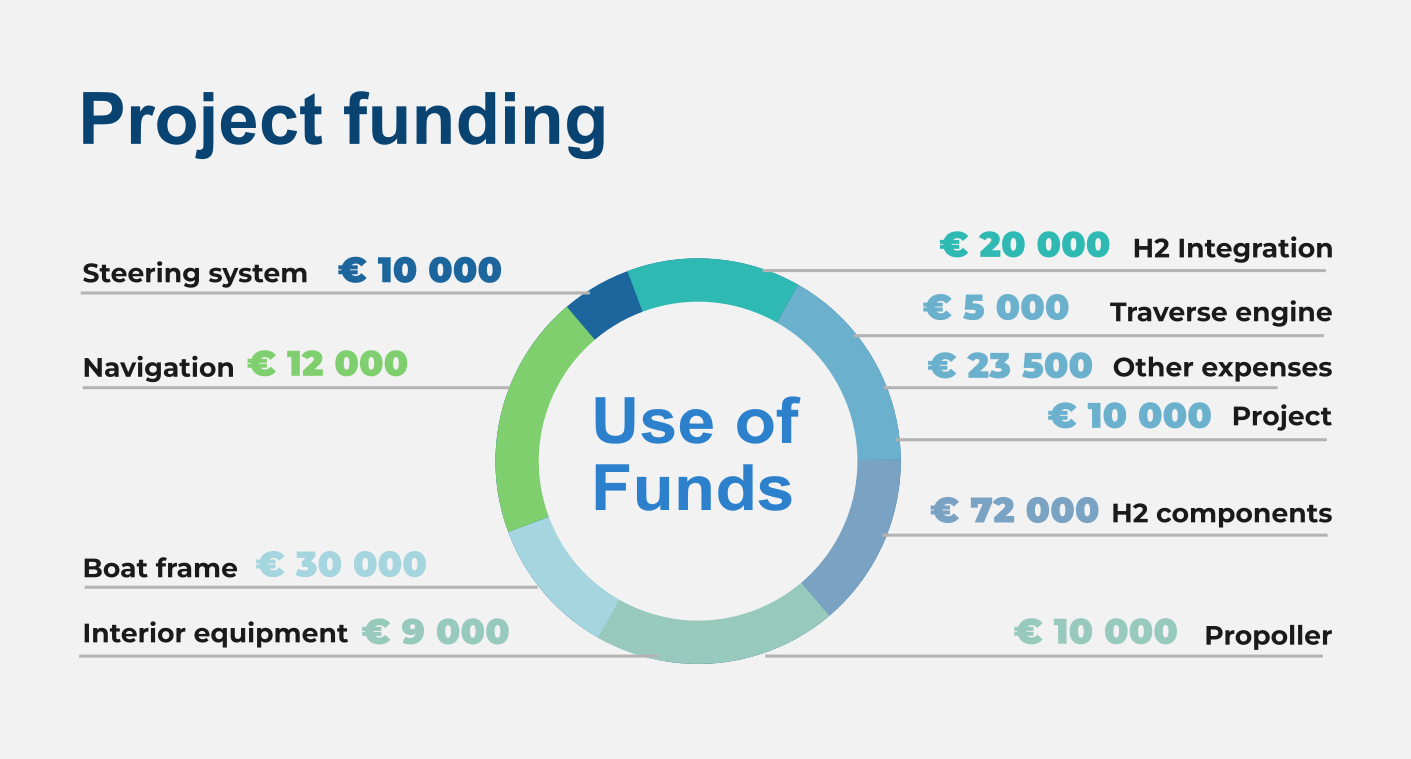 The funds allocated for this project will be distributed as follows: 44% will be dedicated to hydrogen components and integration, ensuring the seamless incorporation of cutting-edge technology. Meanwhile, 19% will be allocated to frame and interior design, enhancing the aesthetics and functionality of the vessels. Another 19% will be invested in mechanical systems, optimizing performance and reliability. The remaining 18% will cover other project-related costs, enabling us to address various aspects necessary for the successful completion of the project.
Dividends and exit scenarios
In the next 5 years, Electrify H2 AS is planning to reach sales of over 10 million EUR. Once the product commercialization begins, sales are expected to grow at 48% CAGR and the company's goal is to become profitable by the end of 2025. In the most likely scenario, the company aims to pursue a buyout exit strategy in the next 4-6 years. Starting from 2027 the Electrify H2 AS management will be ready to discuss a dividend distribution plan for all the investors for the 2026 year.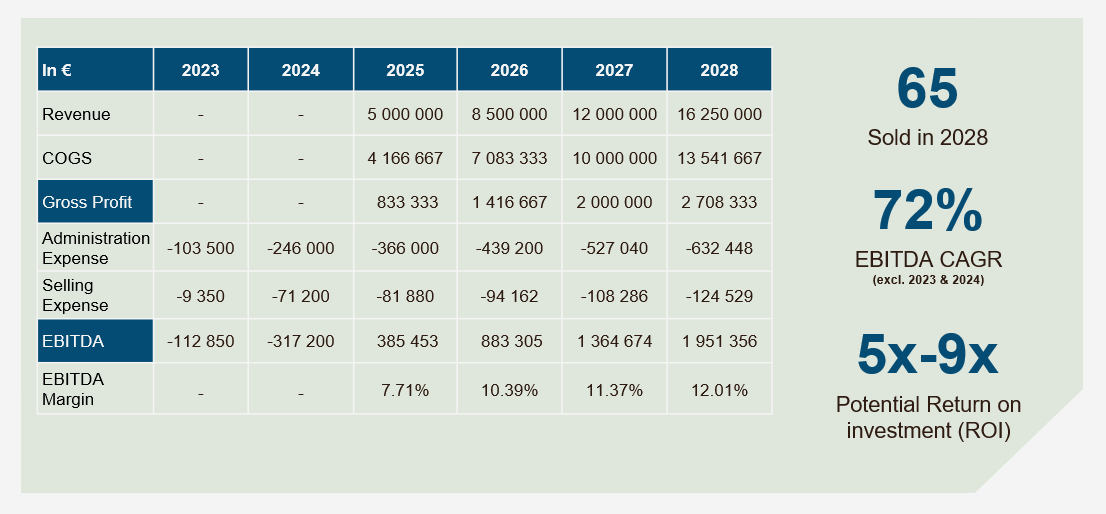 The most probable exit scenario for investors could be a buyout of AS Electrify H2 by a large hydrogen vehicles manufacturer. After 4-6 years of technological development, demonstrated proof of concept, and gained market traction, AS Electrify H2 would be an attractive company to acquire by a potential buyer thanks to its unique value proposition. Other prospective buyers could be a strategic investor, leveraged buyout or equity fund.
Investment structure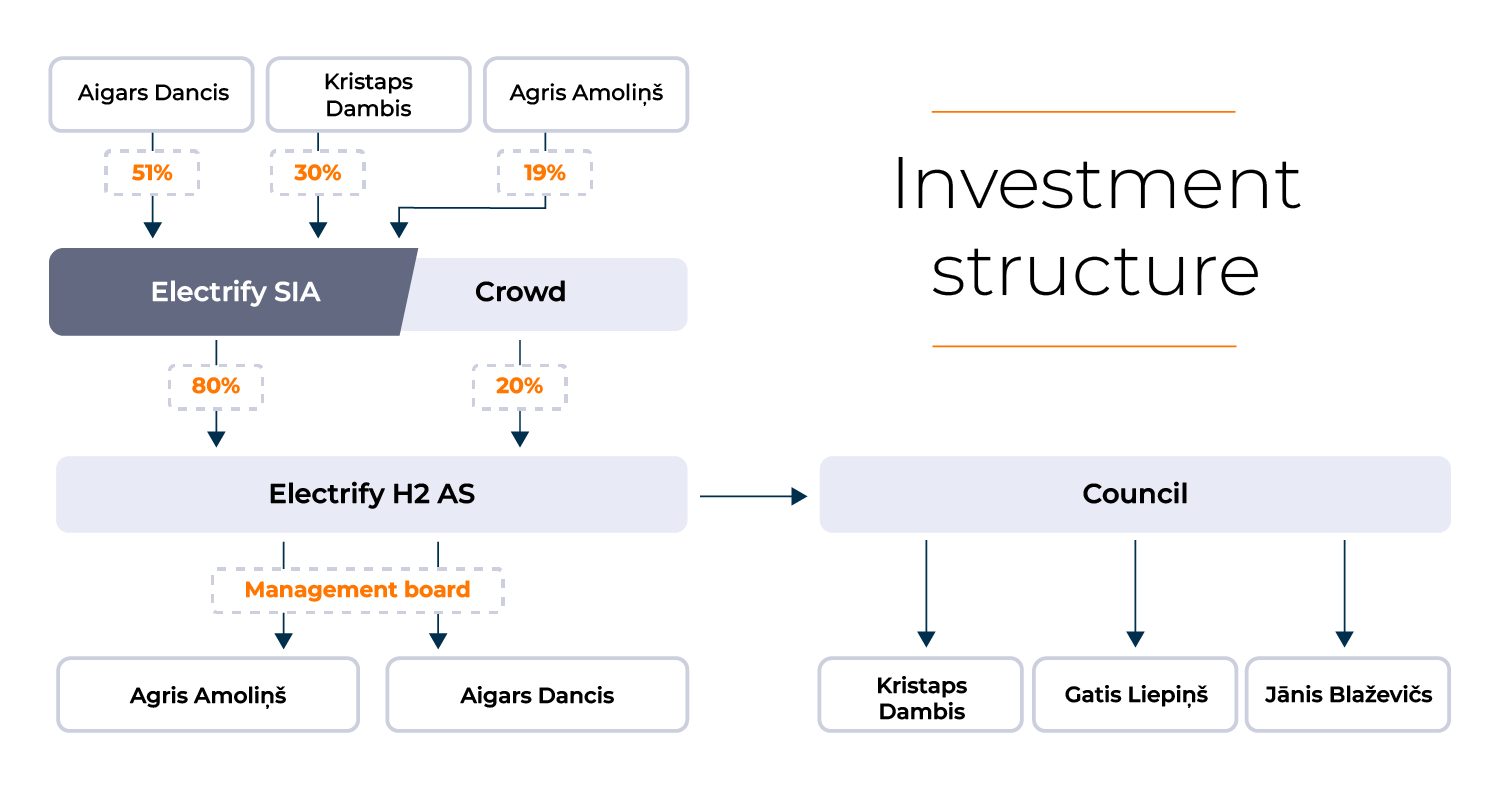 Investors via the CrowdedHero platform invest directly in Joint Stock Company, AS "Electrify H2".
Investors will hold 20% of AS "Electrify H2", and Electrify SIA will hold 80% of AS "Electrify H2".
CrowdedHero investors' interests in the Electrify H2 council will represent CrowdedHero CEO Janis Blazevics.
We will be happy to answer your questions about Electrify H2 AS investment campaign.
Send your questions to [email protected]