Minimum investment: 100 EUR. Investment is organized through SPV, SmartCooling Invest AS.
Minimum campaign target amount: 105 000 EUR.

Information about company:

Company name: Blue energy global SIA
Registration number: 40103825584, date of registration: 11.09.2014
Industry: Heating, Ventilation, and Air Conditioning (HVAC) industry
Purpose: additional working capital to increase production capacity and entering new markets/increasing number of clients
Webpage: https://smartcooling.us/
You can find more information about the company in the Key Investment Information Sheet.

Invest in Smart Cooling ™ and benefit from advanced energy-saving innovation!
WHY INVEST?
Smart Cooling™ is on a mission to redefine the adiabatic pre-cooling sector with innovation. Company's strategy began with a premium product line, and now eager to expand to broader markets.
Smart Cooling ™ unique product assortment is setting new standards in cooling efficiency and energy conservation. With over 1000 units in 200+ projects worldwide, company's products are globally recognized.
As a profitable venture, Smart Cooling™ projects a 3-year CAGR of 50% for investors keen on energy-efficient cooling.
As the demand for sustainable cooling solutions grows, Smart Cooling™ stands ready to meet it. Company's innovative patented cooling solution forms its own niche in the market, perfectly aligning with the evolving needs.
To augment working capital and offset production time and investment return challenges, Smart Cooling™ has launched a crowdfunding campaign.
The team, a mix of seasoned engineers and specialists, brings over a decade of industry experience.
ABOUT COMPANY
Blue Energy Global LLC, founded in Latvia in 2014, is a limited liability company and the owner of Smart Cooling™. Smart Cooling™ is a leading global provider of sustainable cooling solutions, specializing in cutting-edge, energy-efficient adiabatic solutions. With a successful track record spanning almost a decade, Smart Cooling™ has established its presence in over 50 countries and sold over 1000 units in more than 200 projects worldwide.
What is Smart Cooling?
Smart Cooling™ is an energy efficiency solution that utilizes adiabatic pre-cooling technology to reduce electricity consumption and increase cooling performance of HVAC systems.
The Smart Cooling™ pre-cooling system is fully customizable for all types of air-cooled chillers and dry-coolers, and does not require any additional space.
MAIN FACTS
Profitable Innovation: The Smart Cooling™ system leverages a unique adiabatic cooling process, resulting in energy efficiency, cost savings, and visible profits.
Broad Compatibility & Patent: The patented Smart Cooling™ system works with all cooling unit types, offering a versatile solution with unique product knowledge and support.
Global Presence: With clients spanning across Europe, the Middle East, India, Africa, Australia, and the United States, the Smart Cooling™ system has a worldwide reach.
Expanding Installations: The global geography of installed and actively supported Smart Cooling™ devices is constantly growing, attesting to its increasing market acceptance.
Customer Satisfaction: High-profile corporations globally attest to the energy savings and improved efficiency brought about by the Smart Cooling™ system, indicating high customer satisfaction and credibility.
MARKET TRENDS
Smart Cooling™ operates in the Heating, Ventilation, and Air Conditioning (HVAC) industry. The HVAC market is expected to grow at a compound annual growth rate of 3.9 percent over the next five years, with an estimated projection of over 150 million HVAC units sold by 2024. The company's analysis indicates that air-cooled chillers and package units comprise between 30% to 40% of the total HVAC market in the GCC region.

In the developing economies, increasing urbanization has led to a surge in demand for commercial and retail cooling equipment. The GCC and Middle East regions have a high reliance on HVAC equipment due to the extreme weather conditions, making cooling solutions a necessity. Smart Cooling™ estimates that its products can reach 30% to 35% of the market in energy efficiency retrofit projects in these regions.

In developed economies, such as Europe and North America, there is a strong emphasis on energy efficiency and reducing CO2 emissions. Data centers and telecommunications companies are key target markets for Smart Cooling™ due to the high cooling power required for such facilities.
PRODUCT DESCRIPTION
The Smart Cooling™ system is a next-generation intelligent adiabatic chiller booster that uses the adiabatic cooling process, which involves spraying fine mist into the air to lower the temperature of the air entering the cooling unit. This process reduces the amount of energy needed to bring core temperatures to optimal levels.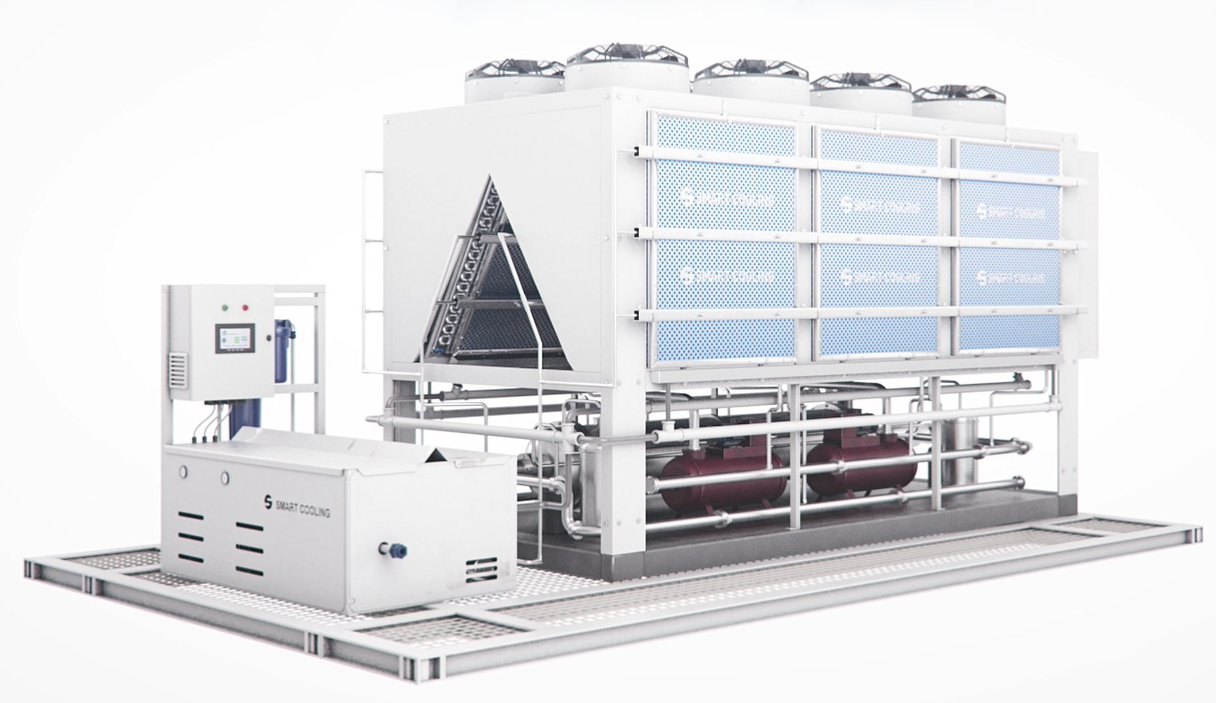 The Smart Cooling™ system is compatible with all types of cooling units and from all manufacturers, including York, Carrier, Train, Daikin, Lennox, and McQuay. The system has been designed for easy installation, typically accomplished in just a few hours.
The key components of the Smart Cooling™ system include a nozzle panel, a reflective membrane, a UV chiller booster unit, a water treatment system, a control panel, and fittings. The nozzle panel and reflective membrane work to reduce the temperature of the air entering the cooling unit, while the UV chiller booster unit and water treatment system ensure the water used in the system is clean and free of harmful bacteria. The control panel regulates the operation of the Smart Cooling™ system, and the fittings connect and fasten the components together.
By reducing the temperature of the air entering the cooling unit, the Smart Cooling™ system is able to significantly lower the electrical consumption of the unit, leading to significant cost savings. The system has been tested and shown to improve cooling capacity and reduce electrical consumption in hot weather conditions.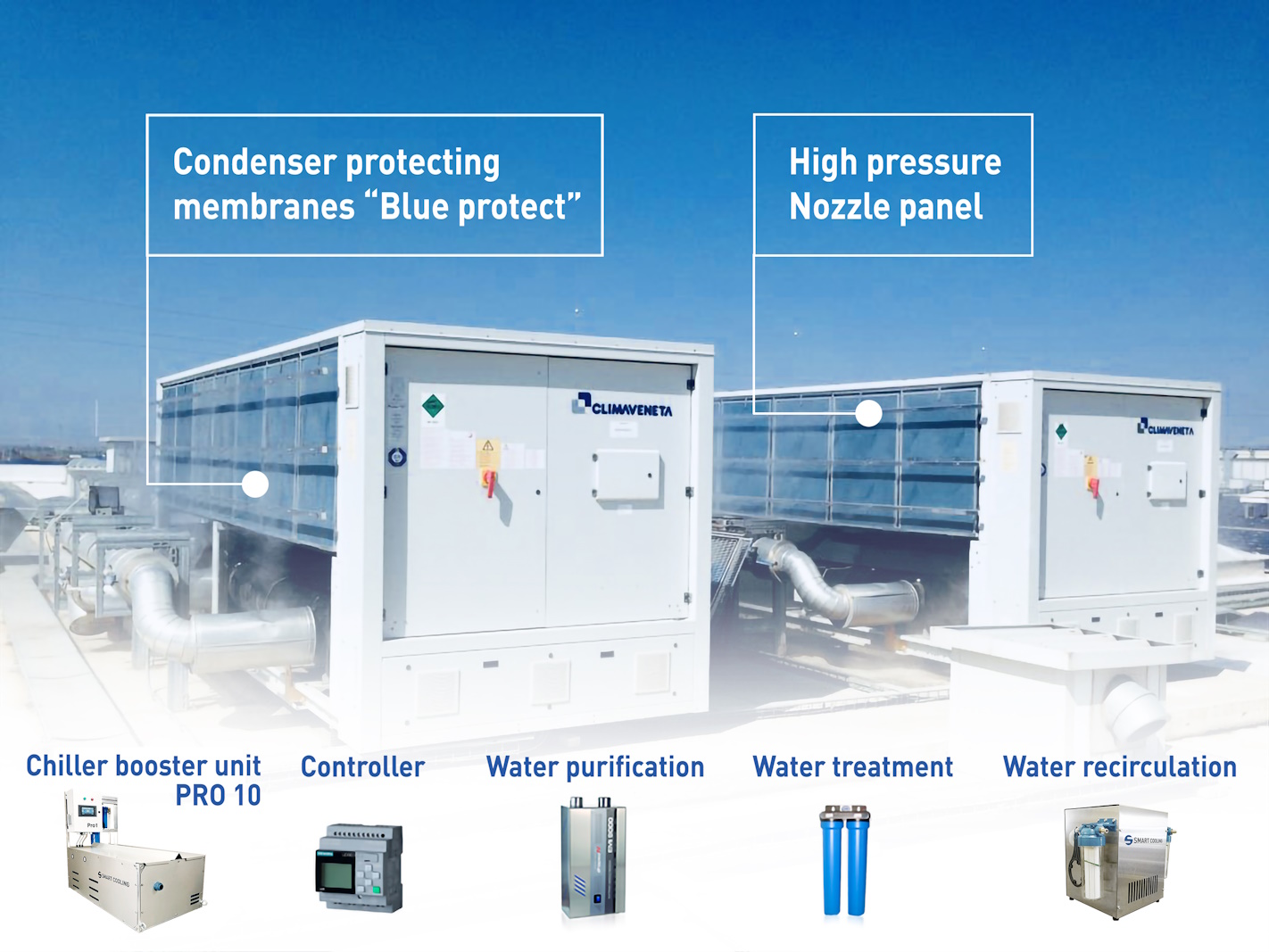 The Smart Cooling™ system has been recognized and approved by leading manufacturers in the air-cooling industry, and it is capable of generating the expected results in terms of energy and cost savings. It also comes with a 2-year warranty.
Major advantages:
Reduces chiller electricity consumption by up to 37%.
Protects chiller condensers and compressors.
Increases the service life of all chillers.
Minimal water consumption.
Return on investment of 5 to 24 months.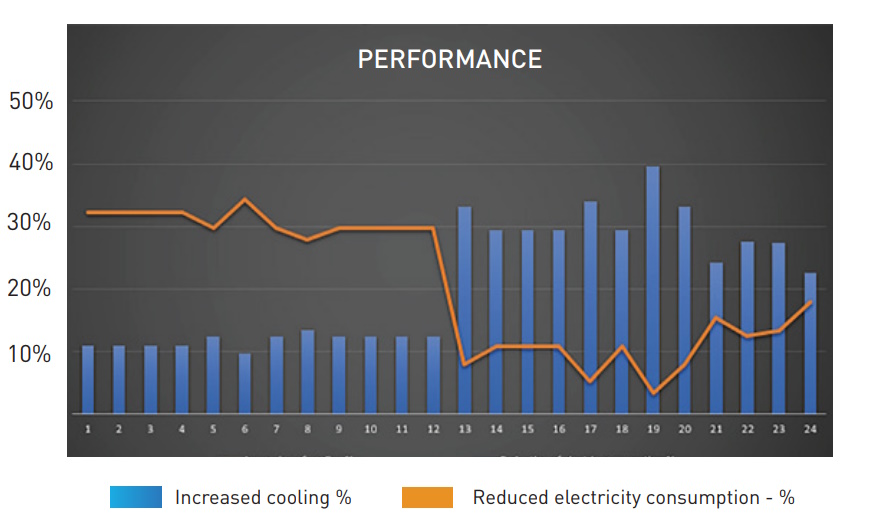 For detailed product description please check Smart Cooling website: https://smartcooling.us/en/ and brochure.
CUSTOMER REVIEWS AND CASE STUDIES

Effectiveness
The Smart Cooling™ system is claimed to significantly reduce electrical consumption, resulting in considerable cost savings. The effectiveness of the system can be seen in data provided by chiller manufacturers, which shows the cooling capacity of a unit under different ambient air temperatures and how much power is used in kW/h. The data shows that the higher the air temperature entering the chiller system, the greater the required cooling capacity and electrical consumption 2 .
A case study with a York chiller showed that by using the Smart Cooling™ system, the temperature of incoming air was reduced to 25°C. Based on this, there was a saving in power consumption of around 21%.
Customer Reviews and Case Studies
With over 1000 adiabatic pre-cooling projects implemented worldwide, Smart Cooling™ boasts an impressive portfolio of global projects in four continents, reflecting its usage across diverse industries and geographical locations. The company's website asserts that many of the world's leading businesses have leveraged the Smart Cooling™ system to enhance energy efficiency and improve the performance of their cooling units. Notable implementations of this technology include the following projects:
PepsiCo
Smart Cooling™ was the natural choice to boost PepsiCo's cooling equipment efficiency, ensuring more cooling power and lower electric energy consumption. After the installation of the adiabatic Smart Cooling™ system an increase of 18% in cooling capacity and a drop 24% in electricity consumption, on average, were recorded. The cooling equipment now operates under normal load, with shorter compressor operating cycles, even during extreme heat. Smart Cooling™ has ensured safer, cheaper and more sustainable cooling operations at PepsiCo.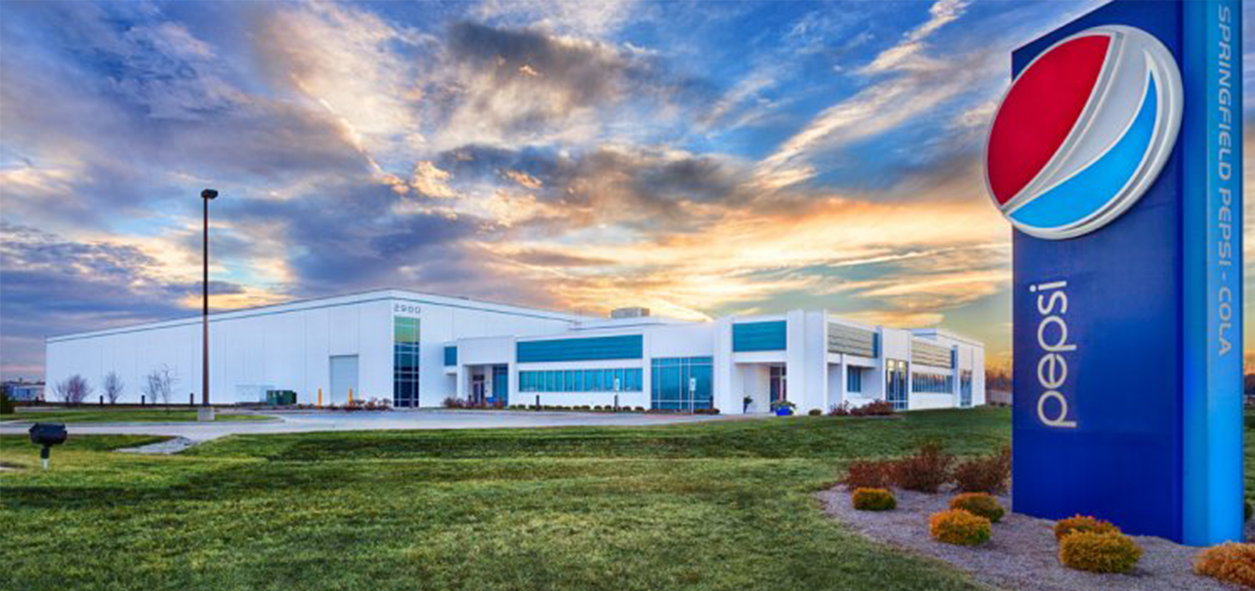 Source: Blue Energy Global SIA website: https://smartcooling.us/en/case-studies/
Bosch
In 2016, Bosch's service division equipped their cooling facilities with the intelligent adiabatic Smart Cooling™ system. Smart Cooling™ lowered the air temperature flowing into the chiller, boosting its cooling capacity and significantly reducing its electricity consumption. After the installation of the Smart Cooling™ system, the cooling equipment produced noticeably more cooling capacity: 25% on average. Electricity consumption dropped to around 19% on average.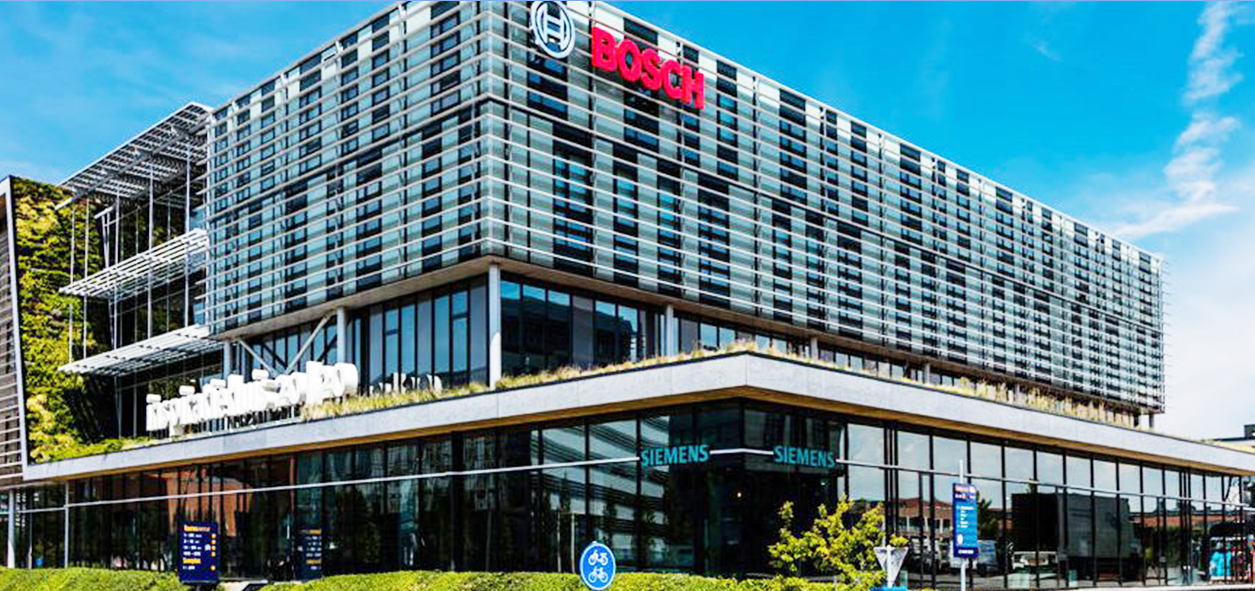 Source: Blue Energy Global SIA website: https://smartcooling.us/en/case-studies/
Vodafone
The intelligent adiabatic Smart Cooling™ system was chosen by Vodafone to ensure its cooling facilities in Portugal deliver efficiency and lower electricity consumption. Installed on the site's two Trane chillers, Smart Cooling™ ensures a boost on cooling capacity and prevents the cooling units from overloading during heat season.
After the installation of the intelligent adiabatic Smart Cooling™ system the incoming air temperature flowing into Vodafone's condensers dropped by 12°C, providing a greatly improved heat exchange.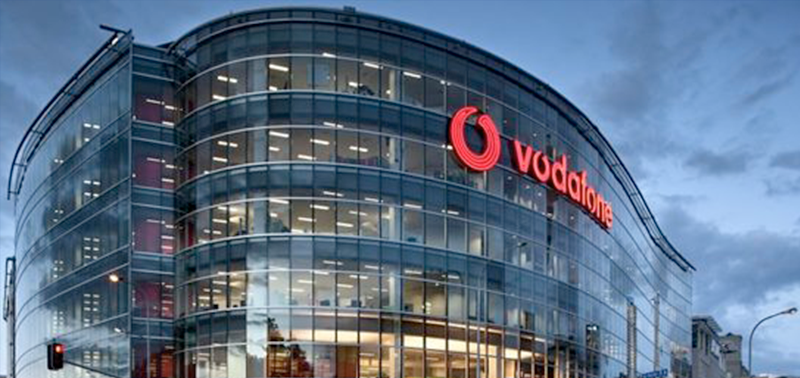 Source: Blue Energy Global SIA website: https://smartcooling.us/en/case-studies/
A more extensive list of projects can be found in the document Smart Cooling – Project Reference List.
BUSINESS MODEL
Smart Cooling™ operates on a robust business model that centers around providing sustainable and energy-efficient cooling solutions to businesses and institutions worldwide. By leveraging their cutting-edge adiabatic technology, Smart Cooling™ offers a versatile range of cooling solutions that reduce electrical consumption and lower operational costs. The company primarily targets data centers, as well as commercial customers in various industries, including hospitality, telecommunications, food and beverage, manufacturing, and more. With a focus on long-term partnerships, Smart Cooling™ aims to enhance the cooling efficiency of their clients' facilities while ensuring profitability for both parties. Through strategic cost management and efficient manufacturing processes, Smart Cooling™ maintains favorable unit economics, allowing them to deliver high-quality products at competitive prices. As the global demand for efficient cooling technologies continues to rise, Smart Cooling™ is well-positioned to expand its market presence and drive sustainable growth in the industry.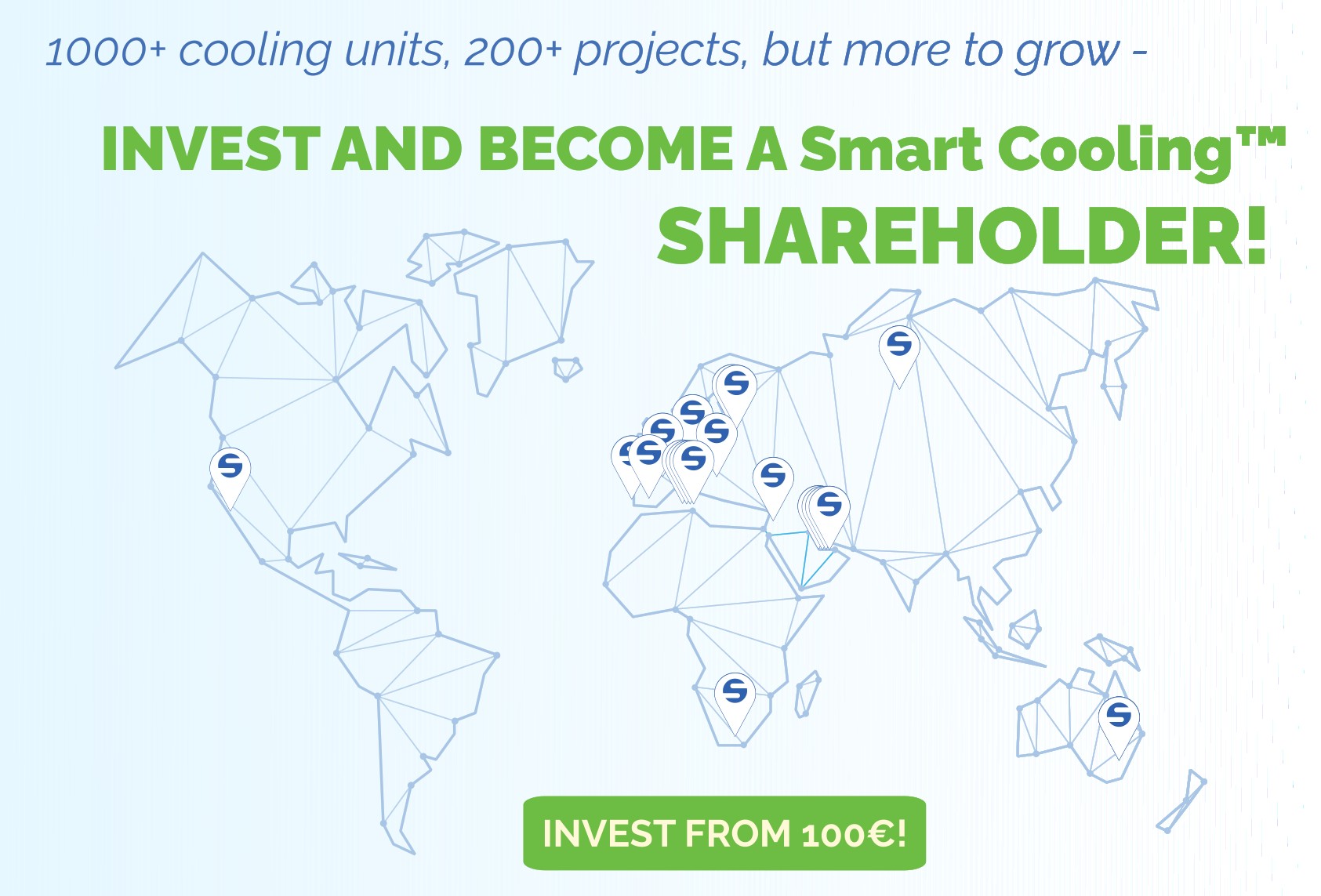 INVESTMENT DISTRIBUTION PLAN

The minimum investment required to participate in Smart Cooling™'s crowdfunding campaign is 100 EUR. The investment is organized through a Special Purpose Vehicle (SPV) called SmartCooling Invest AS.
USE OF FUNDS

The raised funds from the crowdfunding campaign will primarily be utilized to increase production capacity and enter new markets. The main purpose is to boost working capital and meet the rising global demand for energy-efficient cooling technologies that reduce electrical consumption and protect condensers.

DIVIDENDS AND EXIT SCENARIOS

Smart Cooling™ is a profitable venture with a projected 3-year Compound Annual Growth Rate (CAGR) of 50% for investors interested in energy-efficient cooling solutions. The company aims to provide dividends to its investors based on its financial performance and profitability. As for exit scenarios, investors may have the opportunity to exit their investment through the sale of their shares in the company or other potential exit strategies.
INVESTMENT STRUCTURE

The investment in Smart Cooling™ is organized through the SPV, SmartCooling Invest AS, to ensure efficient and transparent management of funds. The SPV structure provides a clear investment framework for shareholders and protects their interests.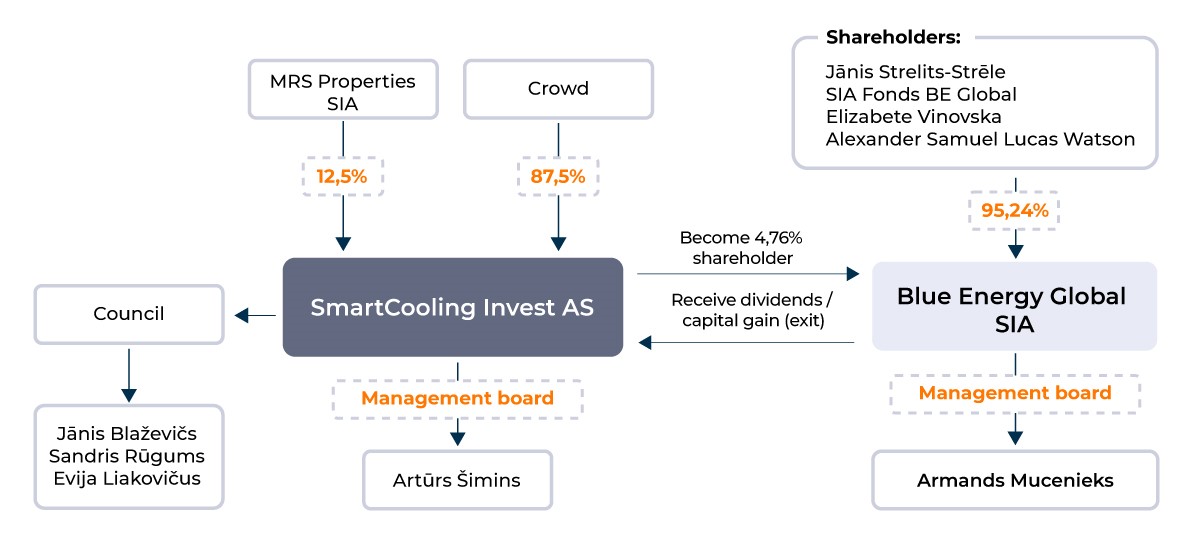 Investors via CrowdedHero platform invest in Special Purpose Vehicle (SPV) – SmartCooling Invest AS. Investors will hold 87,50 % of SmartCooling Invest AS, and Lead Investor 12,50%.
CrowdedHero investors' interests in the SPV Supervisory Board will represent CrowdedHero Board – Jānis Blaževičs and Sandris Rūgums.
SPV will invest in Blue energy global SIA and become a shareholder of 4,76 % of the operating company. Crowd investors will indirectly own 4,17 % of the Blue energy global SIA.
Blue energy global SIA will distribute dividends and proceeds of selling shares to SPV, which will further distribute them accordingly to every crowd investor.
We will be happy to answer your questions about Blue energy global SIA investment campaign.
Send your questions to [email protected]
Invest in growing business trusted by global corporations!